August 14, 2019
AUTHORED BY: SPARSH JUNEJA 
AMITY LAW SCHOOL NOIDA
---
The public is increasingly disgusted with a steady diet of defamation and prepared to reward those who refrain from it – Mitch Daniels
Defamation In Modern Age
Defamation laws were built because of the recognized need for people to have and retain their reputation. Reputation is considered to be the property of people and is held in quite a high esteem in society. Since Defamation means causing damage to the status of another, the right to have one's reputation be it an individual or a corporation preserved and not tarnished has been wholly recognized in India for quite some time. This paper addresses how Defamation has evolved in the Modern Age and the issues that have come along with the introduction of social media and its widespread reach. The civil and criminal aspects of Defamation have been based on the precedents set by the past cases and developments based on those and the court's decisions. Majority of the principles of liability and rules in Defamation cases that are applied by courts have been inferred from Common Law. This also addresses how these rules can be used in all the situations that occur in society and the laws that have been developed to keep intact people's reputation.
                                    Click me to submit an article  
Introduction-
Protection has turned into the principal worry for individuals to be it in their business dealings or as far as their notoriety. To shield individuals from criticism, laws have been made and sanctioned set up to give help to any wrong done. As per the Article 17 of United Nations International Covenant on Civil and Political Rights, Defamation is a false and unprivileged explanation of Truth that is unsafe to somebody' notoriety and distributed "with blame" which means because of the carelessness of perniciousness. Criticism has been additionally separated into two classifications in light of the articles they set to accomplish, i.e. Common criticism and Criminal slander (Smith, 1992). The very first publicly known case in India is recorded to be in 1997, BVP Rao Vs Ratan Tata and others. BVP Rao had challenged that Tata Tea had twisted and suppressed the facts which projected him in a feeble light by alleging that there was no response from him, as his then post of home secretary in December 1995 for providing security after Tata Tea had received a letter from the ulna. The ulna demanded a set of hundred walkie-talkie sets. Rao who was then the state power commissioner claimed damage of one crore rupees against the company the Tata Tea. Rao did not just claim damages against the company; he also claimed personal damages from then managing director R Krishna Kumar and Chairman of Tata group of companies Ratan Tata.
Review-
Common slander happens when a man has been wronged commonly, and payment can be paid for the wrongs that are done to them. Criminal maligning can be characterized as a discipline that is serious, and the miscreant is rebuffed with the goal that a message can be gotten to the general public by and large to not perpetrate such acts. The most well-known case for common criticism can be credited to Defamation of a picture of open VIP with the goal of attention hurt their notoriety and is has turned out to be moderately less demanding as a result of the developing media and web. There have been two cases in the History of Defamation cases in India, and they have set the precedent of how can the cases be handled. In 2006, Case R.S. Lodha Vs B.K. Birla, Auditor ..R.S. Lodha had claimed that Priyamvada Birla had entrusted her assets to him and the assets worth ranged in thousands of crores sued the industrialist ..B.K. Birla for damages of Rupees 100 crore. The auditor had claimed that Birla's statements in media had shattered his public image. The courts have likewise expressed that as far as criticism law, privileges of institutional media are no more noteworthy and no not exactly those appreciated by different people and associations occupied with specific exercises. The courts have arranged the criminal maligning LLaw and are contained in the segments going from 499 to 502 of Indian Penal Code,1860.
The Indian legal framework has recognized common maligning. However, the framework has not arranged it yet subsequently is secured under the Law of Torts, which safeguards the interests of the general population.  Primarily Civil criticism laws ensure notoriety and any harms done to it are cured by granting harms after the trial or out of the court settlement (Pritchard, 2009). The public slandering of the image is most commonly the example of Civil Defamation cases, and individuals suing each other for tarnishing their public image in media has been the stand structure for developing the laws in terms of Defamation laws.
For example, in 2008 Anil Ambani Vs Mukesh Ambani, Anil Ambani sued his brother Mukesh for damages of rupees 10,000 crores for certain libelous statements by the latter in an interview to the New York Times. The American Publications and some Indian Papers which reproduced the libellous statements were also the co-defendants in the case. The case was withdrawn from the courts after the out of court truce between both the brothers after a few years later. At Common Law, Libel is a criminal offense and additionally considerate off-base. Indian Law sees both Defamation and criticism as criminal offenses while Defamation is viewed as a common wrong as it were. Criticism is constantly significant and a culpable offense. As far as to slander being considered as wrongdoing, if an individual is discovered liable of having submitted criticism as far as segment 499 of the Indian Penal Code, the discipline in written in area 500, basic detainment for up to 2 years or fine or both. The charge in criticism case will be rebuffed with the thought of a police grumbling and an appearance with a justice of the court. The proof of Truth that is substantial in the defamation cases of any nature has been the most important consideration in settling defamation cases (Anstey, 2017). This was further used to create better Defamation Laws in India, and the structural change was proven with the case in the year 2010 of Chris Cairns Vs Lalit Modi.  Chris Cairns from NewZealand sued the then IPL Chairperson Lalit Modi in U.K.'s first Twitter libel case over a defamatory tweet sent in January 2010.
In the twitter post-Modi referred to Cairns having a professed involvement in Match fixing as the reason for excluding him from IPL auction. Cairns statement mentioned that the allegation made by Lalit Modi of him being involved in match-fixing were scandalous and untrue, the claim Lalit Modi made is quite outrageous and with that in 2012, the U.K. courts awarded damages of 90,000 pounds and costs of 1.5 million pounds. With deference of common slander, the essential concern or fixate of the spotlight is on Libel, i.e. composed criticism and not on defame, i.e. talked criticism ( Harmon, 2011). There must be a proof if an announcement is slander and the contemplations would be that it ought to be false, written, defamatory, and distributed with the goal that it is simpler to demonstrate ( Krotoszynski, Jr., 2005). There are measures that could be what offended party could make while taking a move that acknowledges the harms that would be payable or the offended party could look for a directive to control any distribution from revealing any insight about the case. However, courts infrequently give directives in criticism cases since they likewise have confidence in supporting free discourse as giving an order could have the impact of controlling discourse. The courts, though, do provide better decisions on how civil defamation cases can be handled better. The major example in recent years that have been recorded is in 2014 case Veritas Vs Indiabulls.
Veritas is a Canadian investment firm, and they filed a suit of the settlement of the claim in Ontario against Indiabulls claiming $11million(rupees 70 crores).  In consideration of the damages for the professed defamatory statements and press releases presented and published by Indiabulls. These statements resulted in the closure of India research services. Indiabulls won an interim order against the move in Delhi High court. A few months later Indiabulls also filed a suit claiming Rupees 200 crore as damages from Veritas and their analyst Neeraj Monga for submissions in the Ontario claim (Dayal, 2012). The consistently developing gatherings of the press, the web, and other social stages have been the support hotspot for making better and separate laws giving the distinction amongst common and criminal slander and how it ought to be ensured as needs are. The laws encompassing criminal criticism are very unforgiving and have an extraordinary impact as there is a consistent risk of being captured, at that point held in detainment lastly confronting a criminal trial which would wind up with a criminal record of the denounced alongside fines and detainment. Criminal maligning designs are a direct result of the inspiration where they can be the premise of common slander in light of political and financial powers. In this way, the laws have been changed, and Indian Supreme Court expresses that "the Government, neighborhood expert, different establishments practicing force won't be qualified for sue for criticism and with that, the administration characterized maligning laws so the escape clauses can't be abused.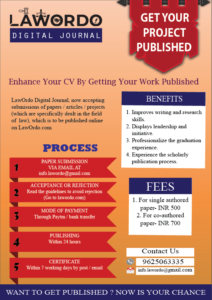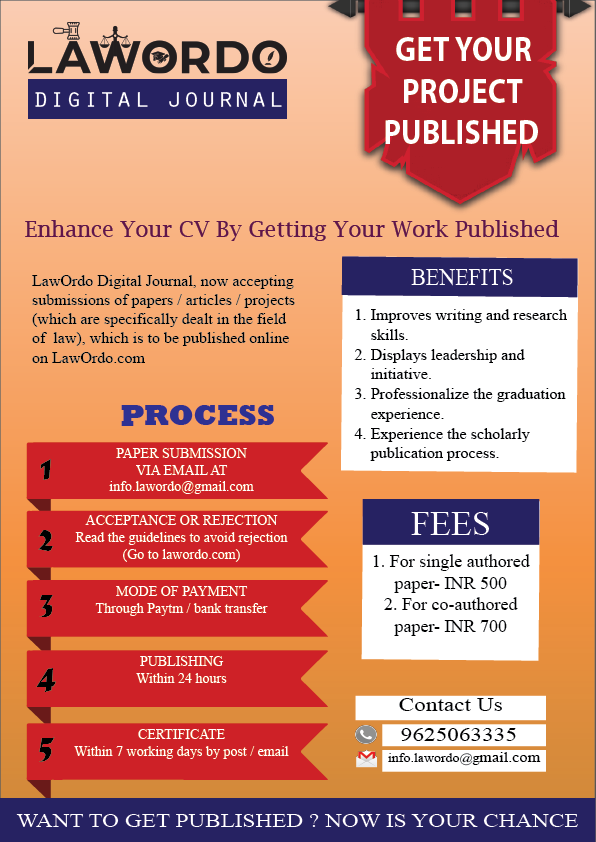 Click me to submit an article  
Conclusion-
Anyone who by words spoken or written with the intention of being read, by signs or by any visible representations makes the statement which concerns any other and that is with the intention of harming the reputation is an aid to defame the person. The civil defamation laws have been inferred from the Law of Torts, which states that public officials or individuals could recover damages when constitutional malice can be established. This paper explains how courts consider all circumstances which determine the reasoning of the defendants. The courts' decision would be based on the effects of speech, ask price of punitive and presumed damages, placement of such damages and any costs that would affect the declaratory judgment. The criminal defamation laws have precedented regulations already in place and are developed with the consistent development of such regulations based on real-life situations, regulations of speech. The problem, however, is the continued growth of media and speech regulations as they are quite impossible in the modern age. The inconsistent regulations of speech in India creates risk for Defamation laws and yet the inferences and regulations of these laws have come quite a long way.
---
AUTHORED BY: SPARSH JUNEJA 
AMITY LAW SCHOOL NOIDA
---