SUBMIT YOUR PAPER / PROJECT / ARTICLE
Enhance your CV by getting your work published –
LawOrdo Digital Journal, now accepting submissions of papers / articles/ projects(it could be any project made for submission at college), which is to be published online on LawOrdo.com.  The journal is a peer-reviewed journal seeking to publish the original research article, academic or empirical report, review of the books and other forms of scholarly writing, which are specifically dealt in the field of law.
The journal is one the few academic journals exclusively reserved to the wide areas of Law and affairs in India. The purpose of the journal is an endeavor to create a culture of promoting scholarly works and practical jurisprudence to address the contemporary issues of the law.
The LDJ aims to publish innovative and original papers that make a significant contribution to the wide spectrum of law.
The LDJ welcomes the participation of professors, experts, lawyers, research scholars, and students. We require original, previously unpublished and work that is not under consideration for publication elsewhere. The content is to be sent to [email protected].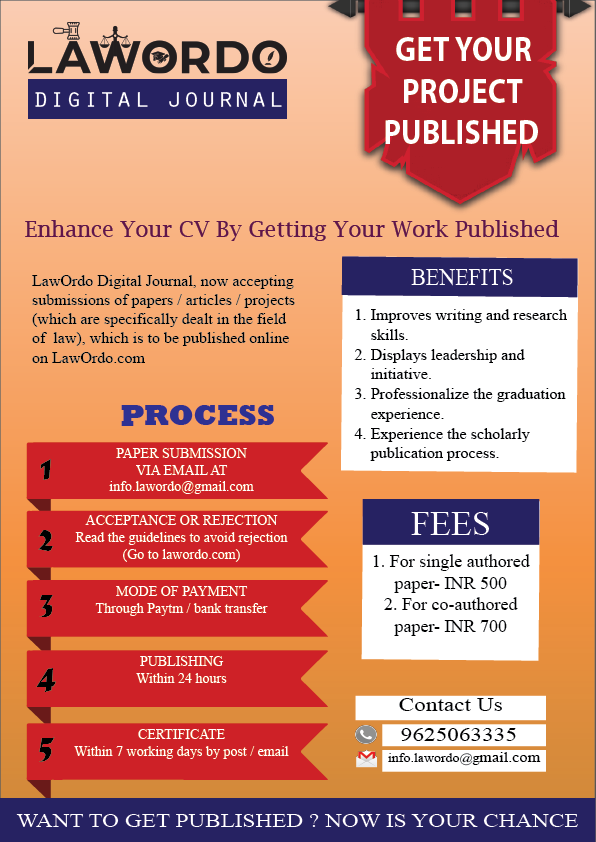 Guidelines for Submission
The theme of the submission should be within the ambit of Law.

The research article should be unpublished, original and should not be under consideration anywhere.

Submission should be made in the electronic form to [email protected] under the subject heading "Submission of paper"

All the submission must be in MS Word format (.doc) or (.docx) with the Times New Roman Font (Main text: size 12 and 1.5 spaced)

Co-authorship (upto 2 authors) is permitted.

All the manuscripts must be accompanied by the cover letter with the name(s) of the author(s), institution/organization, the title of the manuscript and contact information(email id & phone number).

Every submission of the manuscript shall be acknowledged within 48 hours and subject to the preliminary review process by peer review group.
Fee Submission
After receiving the acceptance mail you are required to pay the prescribed fee (INR 590 for single-authored paper and INR 826 for co-authored paper), towards publication charge.

The amount can be paid on the link provided in the mail after the reception of the paper.

After making the payment, please provide us the transaction ID, date of payment, and the screenshot of the web page confirming payment.
Contact
Queries may be directed to [email protected]  with 'Query' in the subject line of the email.